We have placed several water purification systems at churches in Haiti.  Each one can purify thousands of gallons of water daily.
---
Several pastors and district leaders have received motorcycles.
---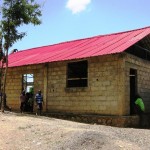 This church received a new metal roof after the congregation had built the walls.
---
A well drilling machine has been sent to Haiti.
---
The mission truck hauls cargo and passengers for church events and construction.
---
This disc was provided for our church at Knyazhichi because farming sustains the local congregation.
---
Small investments have started enterprises such as the production of peanut butter.
---
500 children attend this school at Duclos.  A new block building is under construction.
---
This church at Marie Sucrin, on La Gonave, is getting a new roof.